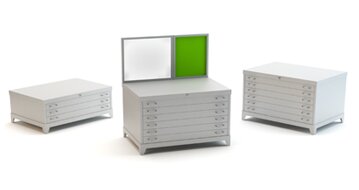 Drawing file cabinet ideally used in all engineering sectors for storing CAD drawings. Being Drawing File Cabinet manufacturer
and supplier in India, this cabinets are wide enough for storing drawings.
Drawing File Cabinets have drawer partition option for storing A2, A3 & A4 papers. Engineering cad drawing cabinet also need white board and pin board which is available in option. To make more easy access of drawing filing system are available from 3 drawers to 6 drawers which are stackable one upon another.
Maxstor Drawing file features:
Robust and Sturdy steel welded construction.
Wide range of combination options available.
Easy pull out handle ergonomic bow-shaped handles in matt chrome
Central locking system with 2 keys
Drawers with A1 size 90% extensible.
Load capacity up to 75 kg UDL.
Available in two standard sizes A1 and A0 for posters, graphic prints (studios), etc.
Many combination options thanks to optional base and tops.