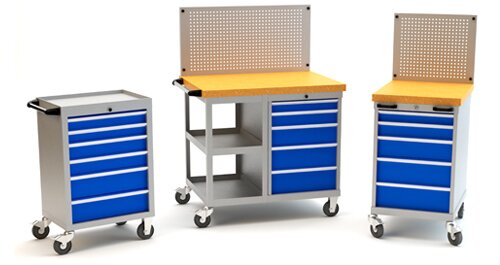 Maxstor provide storage solution which is mobile, portable, economical and flexible. This products are known as mobile tool trolleys and drawer cabinet with wheels which provide complete storage solution for industrial workspaces where tools, inventories and equipment need to be moved from one place to another for day to day production activity.
Our industrial tool trolley are with flexible feature options which ensure these product can meet the proper requirements for all manufacturing industry and will provide a useful workspace solution. Recover your workspace with Maxstor mobile industrial tool storage trolley.
Maxstor is potential tool trolley manufacturer in India, using the high quality raw materials and manufacturing capabilities, we produce heavy duty trolley which offer a superior quality product on time, every time. Our dedication towards research and development has result to the out of box designs of these mobile cabinets, which are robust and rigid with dynamic features, innovation and durability.
Only professional workshops understands the benefit of well organised tool storage systems. To increase the production one needs to minimize the time in searching and finding the tools & inventories. Mobile tool trolley also act in safety for storing and moving of heavy duty material.

For automobile overhauling we understand tool storage and so have developed the automobile mobile trolley. This feature packed, multipurpose functional, which is combination of tool storage, small spare storage and a rigid work surface. It has easy use feature to be located anywhere in your shop floor.
At Maxstor we have developed the tool trolley in such a way that it can be taken to the extent of mobile workstation, where you have wooden top option (multiplex or mdf), vice, perforation panel with hooks. Wheels play vital role in mobile cabinet and tool trolley, we provide polyurethane, nylon and rubber wheels. Wheels are provided in set of four 2 revolving with brake and 2 fix from 100 to 150 mm diameter.
In India tool trolley are known with different name such as industrial trolley, industrial tool trolley, industrial tool storage trolley, heavy duty trolley, automobile trolley, shop floor trolley, drawer cabinet trolley, drawer trolley, mobile drawer cabinet and mobile cabinet.­
Maxstor Tool Trolley features:
Robust and rigid steel welded structure having pillars and cross supports.
Wide range designs for a wide variety of applications such 570 / 720 mm wide.
Centralized locking arrangement with 3 keys.
Heavy-duty Drawer slides for tough operational and heavy load carrying capacity.
Per drawer load capacity from 35 to 100 kg UDL.
100mm diameter wheels 2 revolving with brakes and 2 fix.
Divider and partition to keep all tool and spares in organised form.
Powder coating finish colour.