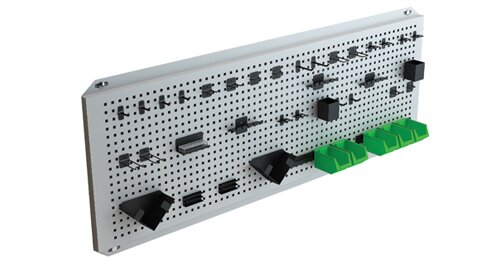 The Maxstor perforated tool panel system make easy to positioned visibly and accessibly of tools right above the worktop, next to machine and to hang on wall. The perfo tool board are perforated on a 32 mm pitch, 15 mm, completely edged and reinforced with stiffeners for rigidity.
This tool holder panels are real space saver for storing tools and saving storage space.
This perforation tool panels can be move easily as well as hang on wall.
Perfo tool panel are multi-functional panel system that helps to organize a multiple of items, different in shape, size and weight on a single surface with a particular place for each while ensuring visual identification. There are wide range of hooks for placing tools like spanner, scpaer, files, drivers, cutter, Allen keys, power tools and wrenches etc.
Multi-functional panel system are known with different name but has same application such as Perfo tool board, Perforation tool Panel, Perfo tool Panel, Tool Holder Panel, Pegboard, Tool Hanging Panel and Display tool panel.
Maxstor Perforation Tool Panel features:
Sturdy steel construction.
Perforated panels allow easy overview and access of stored tools.
The hooks and holders are inserted into the desired slot and no need of screw to fix it.
It can be mounted on wall.